Posted by admin on January 8th, 2010 . Filed under:
Win It!
.
I am in total love with Victoria's Secrets PINK! Essential tanks! I have it in every color made! And since I am wanting to do another giveaway…well you can win 5 of these tanks in your size! And in addition to the five tanks you will get a surprise PINK! beauty bag filled with bath goodies that you are sure to love!!

EDIT: With over 50 comments I am adding 3 runner up prizes that will include 1 tank top along with PINK! beauty goodies! So get your comment on!!!! And if I get over 100 comments I will be doing another Victoria's Secret giveaway as soon as this one ends!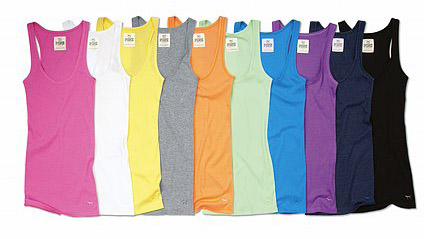 You can earn up to four entries to the giveaway by these various ways, each entry has to be on a separate comment. 1 comment = 1 entry, 4 comments = 4 entries.
* Leave a comment with your size
* Follow me on twitter & leave your twitter name in my comments
* Retweet the following on your twitter & leave the tweet url:
@Pam_Del is having a giveaway for Victoria's Secret goodies!! http://tinyurl.com/y9zoe6u
* Blog about the contest on your blog & leave a comment with the post url
*All 5 tanks will be different colors picked at random by myself! Contest entries will be taken until January 15th 2010. I will ship anywhere!